For hybrid meetings: Digital Event Hub Kranichstein
The Digital Event Hub Kranichstein is a one-stop solution for your meetings, workshops, seminars and other events. Professional location on site, online up to 100,000 participants.
High quality events on site, large audience online
We combine the advantages of our high-quality location in Darmstadt Kranichstein with the new possibilities of hybrid events. This enriches your events with many new functions that will inspire your employees, customers and guests.
Corona-compliant events
The health of our guests and event participants is the most important thing for us. At our hybrid events, we always adhere to the latest hygiene regulations and distance regulations.
Digital kick-off event on May 1st, 2021
Experience with an example what our location and our digital event platform can do - register now for the free kick-off event on May 1st, 2021.
Arrange a free demo session
Get an overview of our digital event platform in 25 minutes. We will show you the possibilities for hybrid events and answer your questions about them. The demo session takes place digitally.
Register for the free demo session:
Or book an appointment directly online with our partner HOTELCO
Virtual and hybrid events are the future
Reach audi­ence online and offline
Cost effi­ciency through smaller face-to-face events
Increase in reach through dissem­i­na­tion via digital chan­nels
Safe events in times of Corona
Inter­ac­tive func­tions create added value: live surveys, chats, break-out sessions and much more
GDPR compliant


The all-in-one solution
Up to 6 confer­ence rooms as fully equipped studios possible on site
A digital event oper­ator accom­pa­nies your event from regis­tra­tion to stream.
Our tech­nical team takes care of the smooth process.
Benefit from all the ameni­ties of the 4‑star supe­rior Hotel Jagdschloss Kranich­stein — such as catering and restau­rant, accom­mo­da­tion, airport shuttle service and much more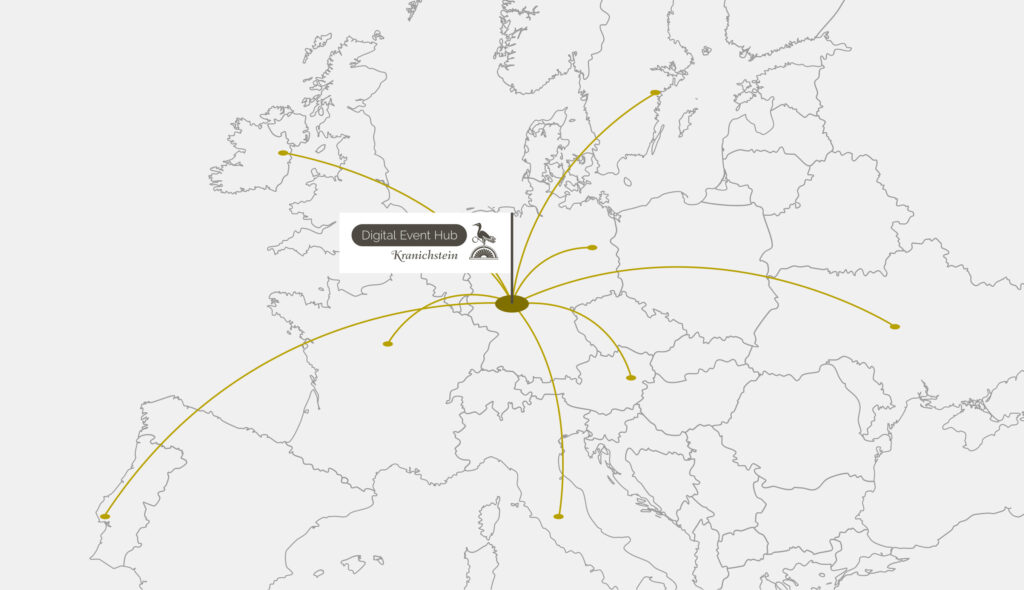 The digital center
If you let your guests take part digitally, you not only save travel costs and CO₂ – with digital added value you create a new feeling of togetherness in times of distance. Come together - in the Digital Event Hub Kranichstein.

Our internal technology service provider HOTELCO ensures that your event runs smoothly with high-end technology on site and technical support from our digital event platform. We are therefore not dependent on external service providers and provide you with all services from a single source.
Your contact person:
Katharina Schmitt
Telefon: +49 (0) 6151 13067-0